Popular Nigerian rapper, Yung6ix, has revealed that several valuable items were stolen from his car in the United States.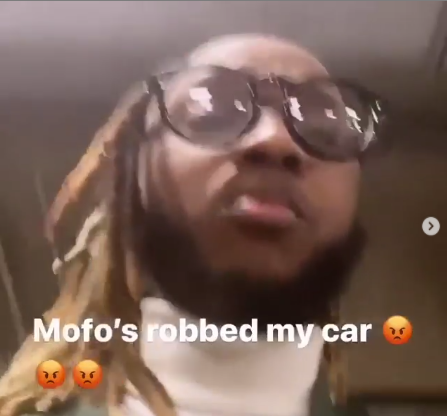 The enraged US based artiste took to his Instagram page to recount the sad incident.
According to him his car was broken into and some valuable items were carted away.
In a video posted on social media, Yung6ix expressed his shock that his customized teeth grillz can be stolen.
Other stolen valuables included customized teeth Grillz and Versace shades.
However, the rapper recently revealed he moves about with armed bodyguards.
The singer stated that he moves about with armed bodyguards to protect himself from the police who he claimed is supposed to be his protector, and not from his fans.
"I saw someone slam me on Instagram when I made a comment about moving around Lagos with armed security, it wasn't to protect myself from fans no, it was to protect myself from the Police who are supposed to be protecting me. Apparently having a luxury car in your 20's is a crime."
Please follow and like us: